Six Tips for Finding the Right Rental Property
If your future plan includes moving out on your own, you may have a few concerns as you plan to spread
your wings. Unless you've been saving funds and working on your finances for the last year or so, you
may not be quite ready to buy a home yet. So, how can you find a rental property that is right for you?
With a little help, of course!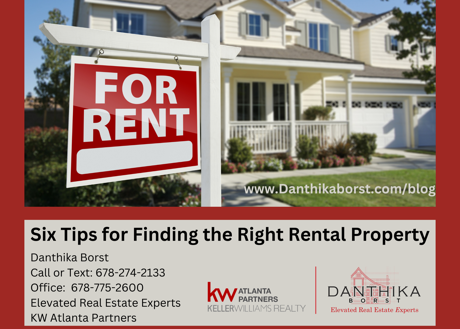 Here are six tips for finding the right rental, right now:
1. Know What You Can Afford
Before you even begin to scour the rental market in your area, you've got to know your monthly budget.
Fiscal experts suggest that renters (and buyers for that matter) spend between 20-30% of their gross
monthly income on housing. But let's not forget that in addition to a monthly rental fee, you'll also be
incurring monthly utility costs, cable/internet subscription fees and possibly trash removal costs, if your
landlord is not footing the bill for that fee. Crunch a few numbers to see what portion of your monthly
pay you'll feel comfortable parting with for housing costs.
2. Determine "Must Have" Features
In some ways, finding the right rental property is a lot like finding the right home to buy. You certainly
want to be comfortable in your chosen rental for the entire length of your lease. So, don't settle for a
rental just for the sake of being on your own. If proximity to work, shopping or public transportation are
high on your priorities list, find a property that meets those standards. If on-site laundry is something
you can't do without, don't consider a rental property that would require you to pack up and head to
the laundromat. When it comes down to your everyday living, you've got to know what you can – and
cannot – do without!
3. Don't Sacrifice Safety
Being on your own is an awesomely-free feeling; but you shouldn't feel so free that you don't feel safe!
If you're searching for the right rental property this year, resolve to only scope out properties in safe
neighborhoods and question potential landlords on their safety features. When touring through
potential rentals, take a specific look at entrances, door locks and even windows!
4. Do Your Research
When you're searching for a rental property, there is no doubt that you're trying to impress potential
landlords. Don't forget that the impressing should go both ways. If you fall in love with a rental property,
make sure that you and the landlord will get along as well. You can find out about a potential landlord
by inquiring about their tenant turnover rate. You also can ask to speak with current or previous
tenants, who are sure to give you an honest opinion about their rental experience. It is one thing to find
a great rental property, but it also is important to make sure you can deal with a landlord for the entire
length of your lease.
5. Be Prepared
Finding the right rental property and landlord for you is only half of the battle – you've also got to secure
them! Many landlords will require documentation to ensure that you're not only able to afford their
property, but also that you'll take good care of it. In addition to running a credit and background check
on rental applicants, landlords also may require potential renters to submit proof of employment, like
pay stubs or tax returns. Some may even require reference letters. Prepare a few of these documents
ahead of time, so you're ready when your potential landlord makes these requests.
6. Understand Your Lease
When you do find the rental property and landlord that seem like the right fit for you, you'll need to sign
on the dotted line before calling them your own. Before you add your signature to any legally binding
document, make sure that you're aware of what that signature means. Determine the length of the
lease, what is included and what you may or may not be responsible for upon move-out. Further, even
after you sign the lease, document the initial condition of the property with photos, so that you and
your landlord are well aware of any imperfections that may be pre-existing.
Once you've scoured rental properties and secured your short-term living arrangements, pick up rental
insurance to cover your belongings in your new home. Undoubtedly, your landlord carries insurance on
their property, but that does not cover the items you bring inside. So, protect your property, begin the
decorating process, and enjoy your new rental property!